Quitman is in the South Central Part of Mississippi. We are ideally located 23 miles from Meridian, 110 miles to our State Capital Jackson, and 120 miles to our Gulf Coast.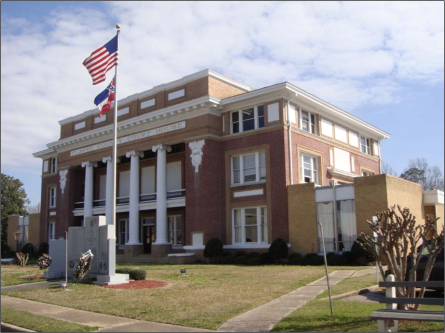 Quitman was started with the purchase of forty-two acres of land in 1836. The cost was $1.25 per acre and in 1839 Quitman was incorporated.  Records still exist and are maintained in the Courthouse.
Our City is located between lakes in Clarkco State Park and the Archusa Water Park which is located inside City limits. It is also bordered by the Chickasawhay River which was used by keelboats to bring in building supplies that started construction of the City.  Recreation is very important to our Citizens and hunting, fishing, golfing, canoeing, and camping reign supreme.
Our Community is Faith-Based with over 15 Churches in the City and the small size isn't obvious with the five banks that serve the public.  Our Hospital and Health Clinic provide personal care with everyone knowing the Doctors and Nurses. We are a Health Care Zone with a Master Plan as approved by the Governor in 2010 and provide incentives for new Health Care Businesses.
Quitman is and has been a leader in recycling, winning the "Best in the State" Recycler. In this City, people care and they show it. Stop by and see this great City.